Our recent Jean's Friday donation's went to Kala's Korner in Jamestown, ND.  We are happy to be able to help out such a great organization in the community!  For more information about the organization, you can read the full article below.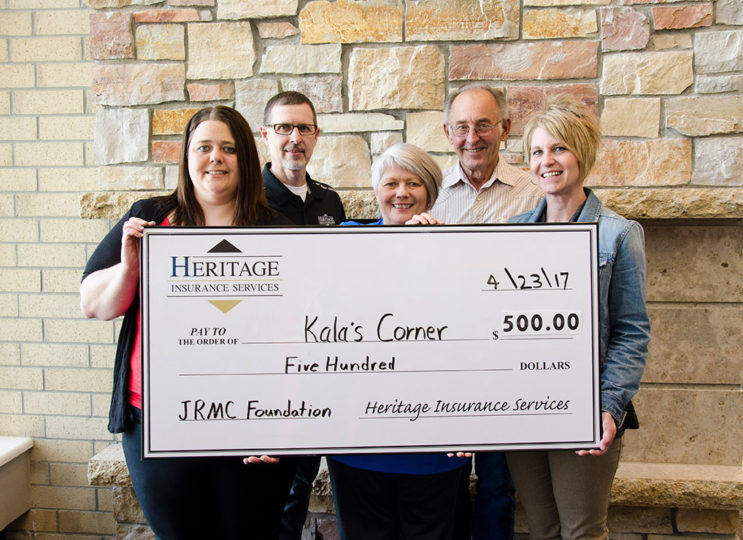 Teachers said she talked too much. Her mother joked that her daughter was always up to something.
But that young girl grew into a kind-hearted young woman, whose mission was to serve children. Despite Kala Bercier's sudden and untimely passing in 2013, her mission continues today.
Kala (Schroeder) Bercier grew up on her parents' dairy farm in rural Gackle. She graduated from Gackle-Streeter High School and Jamestown College (now the University of Jamestown). In 2000, she married Dale Bercier and together, the couple had two children, in addition to his two children from another marriage.
For the benefit of both her children and her stepchildren, Kala volunteered in all their activities. Her outgoing and chatty nature meant she was a natural soccer coach, religious education teacher, volunteer with Girl Scouts and Boy Scouts, Victory Lutheran School fundraiser and active church participant.
"She just thought that raising those kids was her mission in life," said Kala's mother, Peggy Schroeder.
Schroeder, and her daughter Tanya, Kala's younger sister, both work at Jamestown Regional Medical Center. Peggy is the unit clerk in JRMC's surgery center. Tanya is a radiology technologist in radiology.
Kala's kind-heart and outgoing nature also captured the heart of an anonymous donor. That donor made a gift in Kala's name to Jamestown Regional Medical Center's Foundation.
The gift provides items of comfort to children and their families, said Foundation Director Lisa Jackson. In an emergency, parents and caregivers aren't always prepared for a lengthy hospital stay.
"When someone in your family is sick, you rush to the hospital without thinking," Jackson said. "An overnight bag with snacks, toys and a change of clothes is usually an afterthought."
The gesture also spoke to the Optimist Club of Jamestown. The service club purchased a second wagon to assist the cause.
Kala's Korner offers personal hygiene items like toothbrushes and shampoo, as well as toys or activity books for young patients and visitors.
"This is very good," Peggy said of Kayla's Korner. "If Kala were alive, this is something she would do."
The mission of Kala's Korner touched the hearts of the four employees at Heritage Insurance in Jamestown. Heritage Insurance employees throughout the state collect money and donate it to charities each month. The Jamestown branch wanted its money to benefit children, so the team chose Kala's Korner at Jamestown Regional Medical Center.
"We wanted to make an impact where it was needed," said Steve Bossert, insurance agent.
Jamestown Regional Medical Center pediatric patients and their families will appreciate the gifts, Jackson said.
Peggy said she appreciates Heritage Insurance, and the anonymous donor who started it all. She often wonders who the donor is and why that person chose Kala. But she is comforted too, knowing her daughter's legacy is remembered in a project she'd have admired.
For more information on Kala's Korner, call the Foundation at (701) 952-4880.